Gluten-Free Pumpkin Spice Cinnamon Rolls Recipe
Posted on November 19, 2021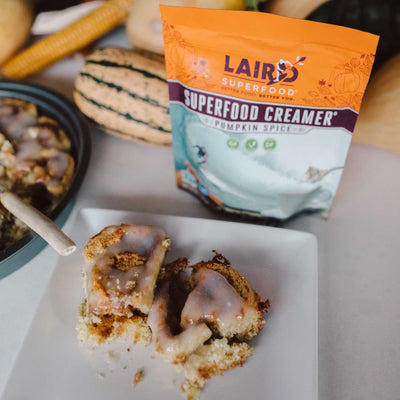 Want to wow your friends and family this holiday season by making homemade cinnamon rolls from scratch? This recipe is for you! These superfood cinnamon rolls (with plant-based frosting!) are perfectly sweet, gluten-free, and vegan… but you don't have to be to love them!
Ingredients:
For the dough
1 ¼ cups plant-based milk (Aloha OatMac Original works well!)
1 packet instant yeast (rapid rise yeast, equal to 2 ¼ tsp)
1 TBSP brown sugar
5 TBSP plant-based vegan butter, melted & cooled
3 ½ to 4 cups gluten-free bread flour, or gluten-free unbleached all-purpose flour
¼ tsp salt
For the filling
¼ cup softened plant-based vegan butter
¼ cup brown sugar
1 ½ TBSP ground cinnamon
For the frosting
5 oz plant-based cream cheese, room temperature
1 cup powdered sugar (or more to taste)
1 tsp vanilla extract
Directions:
In a microwave-safe bowl, warm up milk for 30 seconds. Allow the temperature of the mixture to reach 110ºF, or lukewarm. (If it's too hot it will kill the yeast.) 

Add yeast and sugar into a large mixing bowl. Stir until combined and allow to sit for 10 minutes, until the top is foamy.

If your mixture doesn't get foamy, the yeast did not activate and you'll need a fresh yeast packet to start over.

Once the yeast mixture is foamy, add the melted butter. 

Add 1 cup flour and salt and start to mix at low speed. 

Slowly add more flour, about ½ cup at a time. The dough should be elastic and start to pull away from the edge of the bowl when it is ready and remain soft, but not overly sticky.

Continue kneading the dough for 5 minutes.

Lightly oil a large bowl and shape the dough into a ball, place dough in the bowl and cover with a towel and let rise in a warm environment until the dough has doubled in size, about 45 minutes.

Grease a 9×13″ baking dish with butter and set it aside. Once the dough has about doubled in size, lightly dust a rolling pin and flat surface with flour.

Roll out dough into a 15×9 inch rectangle. 

Mix the Superfood Creamer into the softened butter until creamy.

To the rolled-out dough: spread on softened butter mixture evenly, and sprinkle sugar, and cinnamon; gently pat to let the powdered items absorb into butter slightly. 

Using the heels of your hands and thumbs, gently roll dough into a long roll, placing seam side down, and then cut into 2" segments. You should get about 12 rolls for a 9×13 pan. Place rolls in a greased pan, leaving room to rise.

Once the rolls have risen again slightly (about 15 minutes), preheat the oven to 350ºF. Bake cinnamon rolls for 20-25 minutes until lightly browned.

Make the frosting: In a medium bowl using an electric hand mixer, beat softened cream cheese until light and fluffy. Add in vanilla extract, powdered sugar,  and milk; mix on low speed until combined. 

Spread on slightly cooled cinnamon rolls and enjoy!