Gluten-Free Turmeric Baked Oats Recipe
Posted on October 28, 2021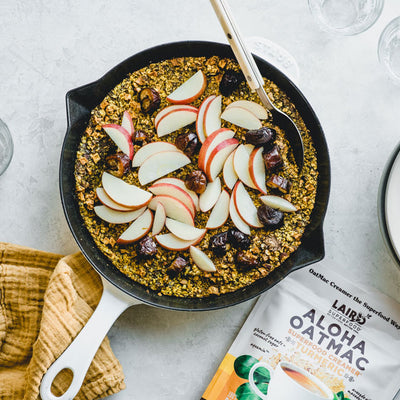 Looking for a nourishing and savory breakfast option that you can prep once and enjoy all week long? Baked oats are the perfect solution! Add in the superfood benefits of our Turmeric Aloha OatMac Creamer and the natural sweetness of dates, and this dish is the perfect breakfast to be eaten hot or made in advance and warmed up in no time!
Serves: 4 servings
Time: 25-35 mins
Ingredients:
¼  cup Turmeric OatMac Creamer

2 flax eggs (2 tbs flax meal mixed with 1/4 cup water)

1 ¼  cup almond milk (or plant based milk of choice)

1 tsp vanilla extract

2 cups of gluten-free oats (or Picky Bars Performance Oatmeal)

1 tsp baking powder

1 tsp cinnamon

½  tsp sea salt

3 Tbs maple syrup

¼  cup dates, sliced

sliced apples for garnish (optional)
Directions:
Preheat the oven to 350°F and grease an 8" oven-safe skillet or 8×8 baking dish.
In a medium mixing bowl, add the vanilla extract, flax eggs, maple syrup and almond milk, then whisk until combined.
In a large mixing bowl, combine the Turmeric OatMac, oats, baking powder, cinnamon, sea salt and sliced dates.
Afterwards, add the wet ingredients into the dry mixture and stir until just combined.
Transfer the mixture into the prepared baking dish then bake for 25-30 minutes or until the edges begin to brown and pull away from the sides of the baking dish.
Finally, remove from oven and allow to cook before slicing into. When ready, serve immediately or store in an air tight container. It will hold in the fridge up to a week.
Enjoy!
About the Author
Monique Sourinho is a professional food stylist, photographer, and recipe developer based in beautiful Essex, Connecticut. Her passions for locally sourced food and community engagement are the driving forces behind Bee The Love, which is all about celebrating collaboration and its delicious end results.