Perfectly Frosted Superfood Sugar Cookie Recipe
Posted on November 3, 2020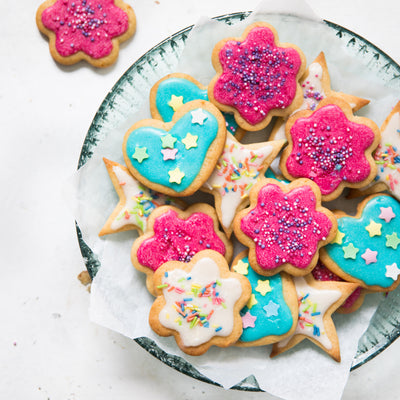 This Superfood Sugar Cookie recipe is absolute perfection with a delectably soft sugar cookie every single time. They're perfect to whip up around the holiday season, or really, anytime of the year!
Our Laird Superfood Original Creamer adds the perfect boost of plant-based ingredients like Organic Extra Virgin Coconut Oil and Aquamin!
Perfectly Frosted Sugar Cookies
Makes about 15, depending on the size of your cookies!
Ingredients
For the cookie dough
1 stick (1/2 cup) vegan butter, softened

1/3 cup organic cane sugar

1/4 cup plain vegan cream cheese

1 teaspoon pure vanilla extract

1½ cups all-purpose flour, more if needed

¼ tsp baking soda

¼ teaspoon fine sea salt
For the frosting
1 cup powdered sugar, sifted

1-2 tablespoons unsweetened almond milk

1 tablespoon vegan butter

Natural food coloring and sprinkles, for decorating
Directions
Line 2 large baking sheets with parchment paper. Preheat oven to 350F/180C. 

To make the cookie dough, in a large mixing bowl or with stand mixer, beat together the butter, sugar, cream cheese and vanilla until fluffy. Mix in the flour, baking soda and salt until just combined. The dough should be very thick. Chill for 20 minutes in the refrigerator (it can also be refrigerated overnight).

Once chilled, roll it out between two pieces of parchment paper to about ¼-inch thick. Cut into desired shapes.

Arrange the cookies 1-2 inches apart on the prepared baking sheet. Bake for 9-12 minutes, until lightly browned on the edges. Allow to cool on the baking sheet for 3-4 minutes, then transfer to a cooling rack to cool completely.

To make the frosting, cream together the vegan butter and powdered sugar. Add almond milk, one tablespoon at a time, until the texture is spreadable. Stir in the food coloring one drop at a time, if using, until you get the desired color.

Decorate the cookies with frosting and sprinkles. Leftover cookies can be kept covered and stored at room temperature (up to a few days).
About the Author
 Anett Velsberg is an experienced food photographer, videographer, recipe creator and food stylist from Tallinn, Estonia. Her heart lies between travelling the world and creating healthy wholesome recipes for body and mind, that not only taste amazing but look delicious, too.