Plant-Based Chocolate Pound Cake Recipe
Posted on December 18, 2019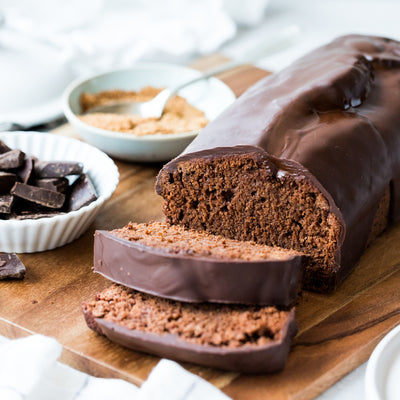 Our new Superfood Hot Chocolate with Functional Mushrooms is GREAT for baking!! This plant-based chocolate pound cake recipe is a great way to use our Superfood Hot Chocolate in your baking! It's so simple to throw together, and SO delicious! It's the perfect treat to bake for a holiday party, or simply to have at home.
Serves 8-10
Time: 60 minutes
Ingredients:
2 cups oat flour, gluten-free if necessary

1 cup almond flour

1 cup coconut sugar

1/2 cup Laird Superfood Hot Chocolate

1/4 cup cocoa powder

2 tsp baking powder

1/2 tsp baking soda

1 cup water

3 tbsp melted refined coconut oil

1 tsp lemon juice or apple cider vinegar

1 tsp vanilla paste or extract

1 cup dark chocolate, melted, to coat
Instructions
Preheat oven to 350F/180. Line a 9-inch loaf pan with non-stick parchment paper. Set aside.

In a medium-sized mixing bowl, combine the oat flour, almond flour, coconut sugar, superfood hot chocolate, cocoa powder, baking powder and baking soda. Stir with a whisk until uniform.

Make a well in the middle of the dry ingredients and pour in the water, melted coconut oil, lemon juice and vanilla. Stir until uniform and lump-free.

Pour batter into loaf pan and bake for 45-50 minutes, until a toothpick inserted comes out clean.

Remove from the oven and cool for 10 minutes in the pan, then turn out onto a plate and cool completely.

Pour the melted dark chocolate over the loaf and spread it around with a spatula. Let it set for 15-30 minutes until the chocolate has firmed up.

Serve immediately or keep at room temperature in an air-tight container until needed.