Pumpkin Spice Cold Brew Recipe
Posted on August 25, 2020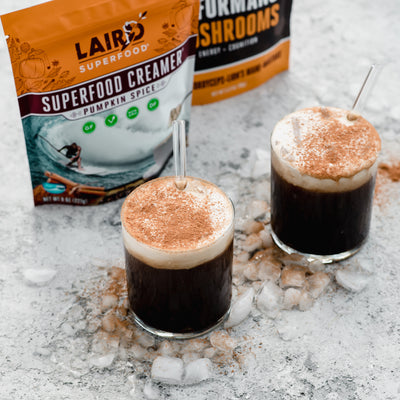 Enjoy Pumpkin Spice hot or cold this season! This cold brew pumpkin spice coffee is the perfect beverage for those end of summer and early fall warmer days!
It's made with real ingredients and sweetened with Organic Coconut Sugar, so you can feel good about enjoying it again and again! We've added a boost of Performance Mushrooms to ours (feel free to omit)!
Pumpkin Spice Cold Brew
Time to Make: 5 Minutes (after preparing Cold Brew overnight)
Serves 2 
Ingredients
3 cups filtered water

1 tsp Performance Mushrooms (optional)

1 1/5 cups oat milk or preferred plant milk of choice
Directions
In a French press, add the ground coffee and water to steep overnight or at least 12-24 hours in the fridge.

When ready, strain and prepare cups with ice.

Froth together the pumpkin creamer and performance mushrooms with the plant milk.

Pour the cold brew over the ice and layer the pumpkin creamer mixture on top.

Enjoy!
About the Author
Monique Sourinho is a professional food stylist, photographer, and recipe developer based in beautiful Essex, Connecticut. Her passions for locally sourced food and community engagement are the driving forces behind Bee The Love, which is all about celebrating collaboration and its delicious end results.