Spiced Maple Latte with Focus Coffee Recipe
Posted on January 11, 2021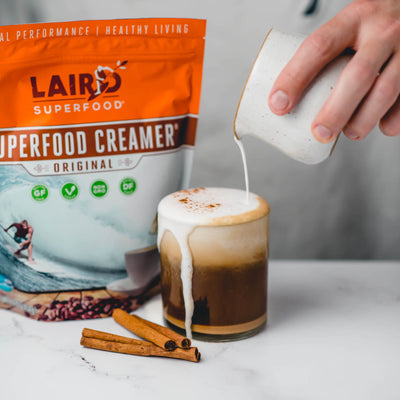 This Spiced Maple Latte is exactly what your morning needs! It's the perfect recipe to switch up your morning routine - your tastebuds will thank you!
The flavors of ground cinnamon and nutmeg blend perfectly with the sweetness of maple syrup, and our Original Superfood Creamer adds a rich and luxurious creaminess to the mix.
Makes 1 Latte
Ingredients:
3 tbs Laird FOCUS Coffee
1.5 cups filtered, hot water
1 tsp ground cinnamon
1/8 tsp ground nutmeg
1/8 tsp allspice
1 tbs maple syrup
1/2 cup cold almond milk (or plant alternative of choice)
Directions:
Using a French press, add the coffee grounds and spices.  Fill with the filtered hot water and allow to sit for a few minutes before pressing.
In the meantime, using a frothing machine (power-frother, milk frother, blender), add Laird Superfood Original Creamer and cold almond milk.
When the coffee is ready, stir in the maple syrup and layer the frothy creamer on top. Finish with an extra sprinkling of ground cinnamon and nutmeg and enjoy!
About the Author
Monique Sourinho is a professional food stylist, photographer, and recipe developer based in beautiful Essex, Connecticut. Her passions for locally sourced food and community engagement are the driving forces behind Bee The Love, which is all about celebrating collaboration and its delicious end results.