Plant-Based, Vanilla Superfood Oatmeal Recipe
Posted on October 5, 2019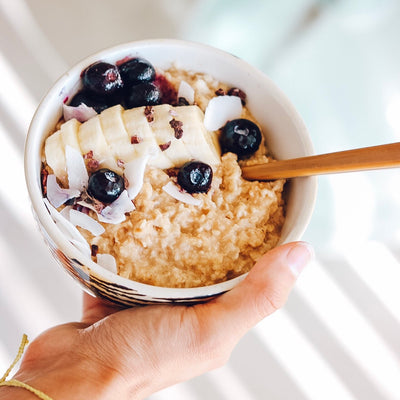 Add a delicious superfood boost to your morning oatmeal with our Vanilla Superfood Creamer! This recipe for superfood oatmeal will kick your mornings off with a tasty boost! 
Not only will you taste the luxurious flavors of real Madagascar Bourbon Vanilla, but you'll also get a superfood boost from naturally occurring MCT oils and Aquamin (natural calcium derived from sea algae that offers 72 trace minerals)! It's a delicious and easy way to take your morning oats up a notch.  
This recipe comes from our friends at Twins Kitchen! 
Servings: 1-2
Ingredients:
1 cup oats 
1.5 cups water/plant-based milk, more or less 
1 Tbs Vanilla Superfood Creamer (you can always add more or less to taste!)
Pinch of cinnamon 
Pinch of pink sea salt 
Toppings of your choice (optional)
Instructions:
1. In a cooking pot, bring oats and water/plant-based milk to a simmer over medium-high heat.
2. Reduce heat and stir frequently until oats become creamy and thick.
3. Remove from heat and stir in Vanilla Superfood Creamer, cinnamon, and sea salt.
4. Serve with your favorite toppings (we love dried fruit in ours).
5. Enjoy!