Plant-Based Vanilla Superfood Smoothie Recipe
Posted on October 8, 2019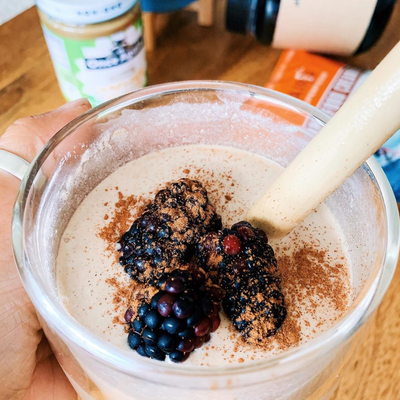 Did you know our Superfood Creamers go beyond your morning cup? Whip up a delicious plant-based, superfood smoothie with our
 

Vanilla Superfood Creamer!
Add the luxurious flavor of real Madagascar Bourbon Vanilla, along with naturally occurring MCT oils and Aquamin (natural calcium derived from sea algae that offers 72 trace minerals)! It's an easy way to elevate your morning smoothie. 
This recipe has been adapted from Elliana Jimenez at Chocoandkale.
Servings: 1-2
Ingredients:

2 Tbs full-fat coconut milk

1/4 cup Plant-based Yogurt

1 Tbs Sunflower butter 

1/2 tsp Cacao powder

1 tsp Chia seeds

1/2 Tbsp 

Vanilla Superfood Creamer (you can always add more or less to taste!)
1/4-1/2 cup nut milk or water (adjust for consistency preference)

Big pile of ice cubes! (3-5) 

Berries and cinnamon for topping
Instructions:
1. Add all ingredients to a blender and blend for 30 seconds, or until smooth.
2. Enjoy!