Vegan Pumpkin Alfredo Pasta Recipe
Posted on November 18, 2021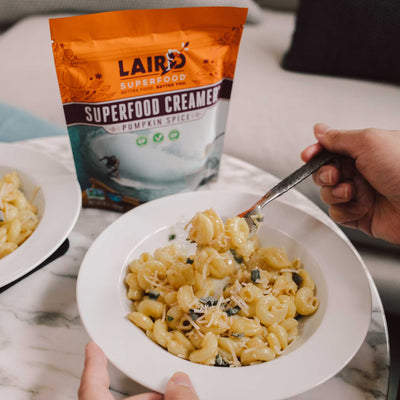 If you've found yourself bored of the same old pumpkin spice recipes and are ready for something truly unique and exciting, then this dish is for you! With real pumpkin puree blending with the vegan cheesy garlic sauce, there's so much flavor in every bite!
Ingredients:
1 shallot, finely chopped
1 tsp minced garlic
1 TBSP olive oil
2 TBSP vegan butter
1 cup vegan Parmesan cheese, finely grated
½ cup coconut cream
¼ cup pumpkin puree
Salt, pepper, sage to taste
2 servings of pasta
Grated vegan Parmesan cheese (for topping)
Parsley flakes (for topping)
Directions:
Bring salted water to a boil and add pasta.
Finely chop the shallot and grated Parmesan. Set aside.
Heat up olive oil on medium and cook chopped shallots for 1-2 minutes until tender. Add in minced garlic and mix again until fragrant.
Lower the heat. Add in butter and mix until melted. Pour in coconut cream and mix until smooth.
Add pumpkin puree and Pumpkin Spice Creamer and mix again until everything is one consistent, smooth texture.
Add in vegan Parmesan and mix again.
Season to taste. (We recommend salt, pepper, and a dusting of sage.)
Mix and let simmer for a few minutes. The sauce should thicken slightly.
When pasta is ready, strain (saving a few spoonful's of the pasta water) and add the pasta to the sauce. Add a few splashes of pasta water to the sauce and pasta mixture (don't skip this).
Mix well and serve with more Parmesan and parsley flakes.