Vegan Turmeric Berry Ice Cream Recipe
Posted on February 1, 2019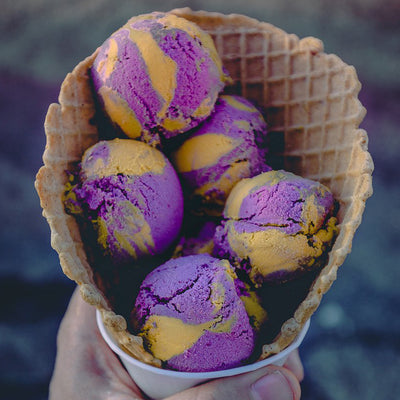 Homemade ice cream that's surprisingly easy to make, and dairy-free too! Naturally bright-hued vegan ice cream gets its bold colors from frozen berries and Laird Superfood Turmeric Creamer. This vibrant creamy treat will turn heads at a party...but if you don't want to share, we won't tell!

This recipe was developed in partnership with The Rustic Vegan.
Active time: 30 mins
Total time: 3 hours
Freeze overnight before serving

Servings: 10-12
Ingredients
1 cup raw cashews, soaked overnight
2 cups full-fat canned coconut milk, chilled
1/2 cup vegan milk substitute of choice
1 cup triple mixed berries, thawed
1 tsp vanilla extract
1/8 tsp guar gum
pinch of salt
Equipment
High-speed blender
Food processor
2 large mixing bowls
2 large zip-seal bags
1 large rectangular storage container
Instructions
Drain and rinse cashews. Add cashews and vegan milk to blender and blend until it reaches a thick, creamy consistency.
Add chilled coconut milk, coconut sugar, vanilla extract, guar gum, and salt to the mixture and blend to combine.
Pour out half of the blended mixture into a mixing bowl and set aside. This will be the base for your turmeric ice cream - we don't want the two colors to mix just yet!
Add the frozen berries and Laird Superfood Original Creamer to the remaining mixture in the blender and blend. This will be the base for your berry ice cream.
Once your berry ice cream is well-blended, pour it into one of the zip-seal bags, seal, and set aside.
Rinse out your blender. Pour the reserved ice cream base into the clean blender, add Laird Superfood Turmeric Creamer, and blend.
Once your turmeric ice cream is well-blended, pour it into the second zip-seal bag and seal.
Place both bags of ice cream in the freezer. Freeze for 2 hours.
Remove both bags of ice cream from the freezer and massage to break up the mixtures.
Empty berry ice cream into food processor and process until smooth and creamy. Set aside in a bowl.
Rinse out your food processor. Repeat the process with your turmeric ice cream and set aside in a separate bowl.
You will now begin scooping your ice cream into the rectangular container. To create a swirled effect when scooped, you want to arrange the different colored scoops in an alternating checkerboard pattern. Start by placing a scoop of berry ice cream into the corner, then place a scoop of turmeric beside it, followed by berry again, alternating colors until the row is complete. Repeat the same process with the second row, but start with turmeric this time.
Add alternating rows of scoops in a single layer until bottom of the container is covered. Repeat with second layer and third layer if needed depending on the size of your container.
Freeze overnight and enjoy!
About the Author
The Rustic Vegan
The Rustic Vegan is a plant-based home cook, recipe developer and professional photographer based in Southern California. He aims to inspire vegans and convert the skeptics with his bold, beautiful images that highlight naturally colorful clean ingredients. Follow him on Instagram: @rustic.vegan