Vegan "Twix" Bar Recipe
Posted on December 18, 2020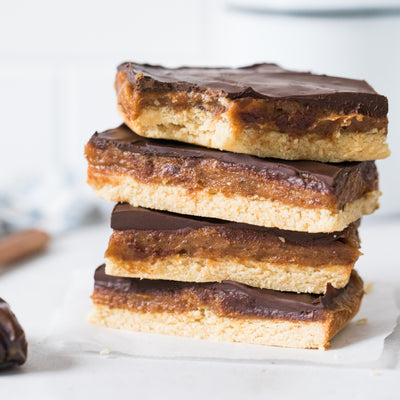 These delicious candy bars are a homemade, plant-based take on the candy bar we all know and love! The base is gluten free and made with almond flour and coconut flour. The caramel is the star layer here, made with Dates which provide a deeply sweet and delectable flavor. Lastly, they are topped off with a rich layer of dark chocolate.
Kids will love these (and won't even guess they are vegan!). They're that good. Find the recipe and video below!
Vegan Twix Bar with Dates Makes 6-8 bars
For the base:
1 cup almond flour

1/2 cup coconut flour

1/2 tsp sea salt

1/4 cup melted coconut oil

1/4 cup maple syrup
For the caramel:
1 1/2 cups (about 11-12) Dates, pitted

1/4 cup smooth nut butter, such as cashew, almond or peanut

1/4 tsp sea salt

1 tsp vanilla extract

2-3 tbsp unsweetened plant milk, as needed
For topping:
1 cup roughly chopped dark chocolate or dark chocolate chips, melted over a water bath or in a microwave
Directions:
Preheat the oven to 180C/350F. Line a 9×9 square tin (or equivalent) with parchment paper and set aside.
Combine the almond flour, coconut flour and sea salt in a medium-sized bowl. Stir until evenly mixed. Pour in the coconut oil and syrup and stir until you get an even dough.
Press dough to the bottom of the prepared baking tin and bake in the oven for 10-12 minutes, until lightly browned. Cool completely.
To make the caramel, combine the dates, nut butter, sea salt, vanilla and plant milk in a food processor. Process until smooth, scraping down the sides and adding plant milk as needed.
Spread the caramel on the shortbread and pour the melted chocolate on top.
Place in the fridge for 1-2 hours, until set.
Cut into bars and serve. Best kept in the fridge until needed.
About the Author
Monique Sourinho is a professional food stylist, photographer, and recipe developer based in beautiful Essex, Connecticut. Her passions for locally sourced food and community engagement are the driving forces behind Bee The Love, which is all about celebrating collaboration and its delicious end results.