5 Ingredient Ginger Peaches and "Cream" Protein Smoothie Recipe
Posted on October 21, 2020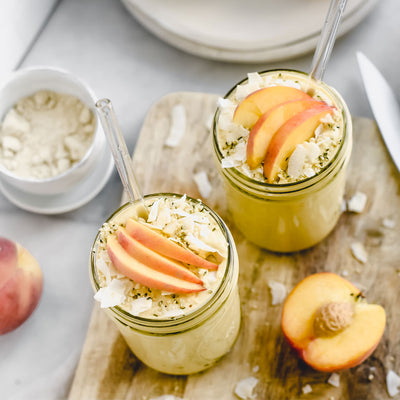 Ginger Peaches and "Cream" Protein Smoothie
This smoothie tastes like a real treat, but is actually made with nourishing ingredients and has an extra boost from our Renew Plant-Based Protein! It's the perfect smoothie to whip up when you're craving something delicious that's also packed with ingredients that will keep you fueled! Whip this up for breakfast, and afternoon sweet treat, or even for a fruity dessert!
Serves 2
Ingredients
3 cups coconut milk
2 cups frozen peaches
1 banana
1 tablespoon fresh ginger
Directions
1. Blend all together until smooth and consistent.
2. Pour and distribute. Enjoy!
About the Author
Monique Sourinho is a professional food stylist, photographer, and recipe developer based in beautiful Essex, Connecticut.Her passions for locally sourced food and community engagement are the driving forces behind Bee The Love, which is all about celebrating collaboration and its delicious end results.