Activated Acai Bowl with Prebiotic Daily Greens Recipe
Posted on December 8, 2020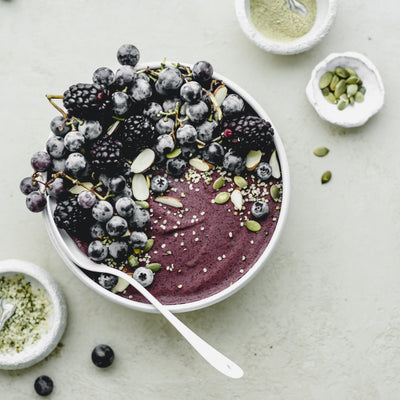 Ready in just a few minutes, this Activated Acai Bowl recipe is filled with acai berries, fruit, and boost from our Activate Daily Greens. It's SO easy to make your very own Acai Bowl right from home and enjoy this powerhouse of a meal anytime you want for a fraction of the cost.
Our Activate Prebiotic Daily Greens is formulated with 18 potent superfood fruits and vegetables, selected for their nourishing support for your gut microbiome! Each ingredient was hand selected by our team of nutritionists and naturopathic doctors in partnership with Laird and Gabby. Our powder is a great way to boost the amount of minerals and vitamins your body craves.
Ingredients:
1 tablespoon Activate Daily Greens
1 cup frozen açaí berries
1 banana
1 cup frozen blueberries
1/4 cup frozen grapes
1 cup coconut milk (or plant based milk alternative of choice)
Directions:
Blend all ingredients together until smooth and consistent, adding more liquid if preferred.
Transfer into a bowl then garnish with fruit, nuts and seeds.
Enjoy!
About the Author
Monique Sourinho is a professional food stylist, photographer, and recipe developer based in beautiful Essex, Connecticut. Her passions for locally sourced food and community engagement are the driving forces behind Bee The Love, which is all about celebrating collaboration and its delicious end results.