Dairy-Free Blueberry Pie Smoothie Recipe
Posted on July 6, 2021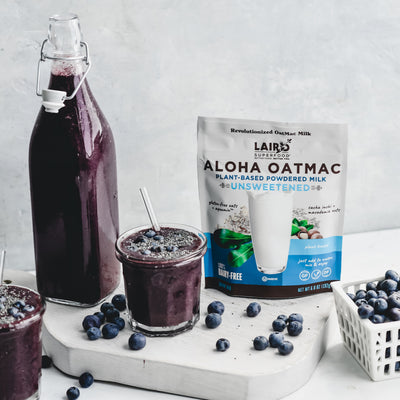 Cool down for the summer with this delicious and nutritious Blueberry Pie Smoothie. It's delightfully purple and tastes like a slice of blueberry pie in a cup. It's made with our Unsweetened Aloha OatMac Oat Milk for a creamy, plant-based texture!
Blueberry Pie Smoothie
Ingredients:
2.5 cups Frozen wild blueberries

3 medjool dates

2 Tbs chia seeds

2 cups filtered water

1/4 tsp cinnamon

1/4 tsp cloves

1/2 cup ice (more or less to preference)
Directions:
Blend all ingredients together until thoroughly combined.  Transfer to cups and enjoy! (Optional: Add graham cracker crumbs as a topping or at bottom to give it more of a "pie" taste!)

About the Author
Monique Sourinho is a professional food stylist, photographer, and recipe developer based in beautiful Essex, Connecticut. Her passions for locally sourced food and community engagement are the driving forces behind
Bee The Love
, which is all about celebrating collaboration and its delicious end results.