Creamy Coconut Mango Lemonade Recipe
Posted on August 19, 2021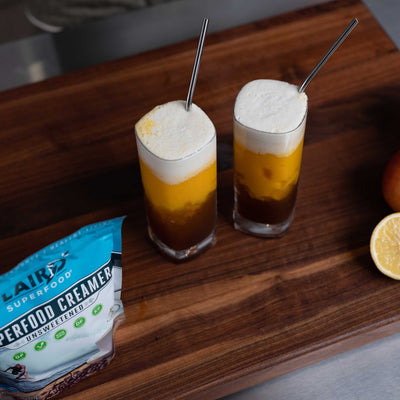 We know it's not summer without delicious lemonade, so we've created a unique Mango Lemonade Recipe with a twist! This beautifully layered mango lemonade sweetened with organic coconut sugar is sure to be the talk of your gathering. The twist? The indulgent layer of freshly whipped coconut creamer on top to make a delicious, sweet, tart, and refreshing summer lemonade!

Recipe yields 4 tall glasses
Ingredients:
1 cup puréed ripe mangos (about 2 medium-sized)

1 cup fresh squeezed lemon juice (approx. 4 large or 6 smaller lemons)

1 cup organic coconut sugar

Pinch of salt

2 cups cold water 

Ice (for chilling and serving)

1 cup unsweetened coconut milk (make from 1 cup Laird Superfood Unsweetened Creamer with 1 cup water)
Directions:
Squeeze the lemons to make juice, strain if you don't want pulp and add to a pitcher

Peel and cut the mango slices into chunks and purée, and set aside.

Combine the coconut sugar and water and add to the pitcher and stir. Add a pinch of salt.

In a separate bowl or large measuring glass combine the Laird Superfood Creamer (Unsweetened) with water. Froth until mix becomes a coconut cream.

When ready to serve, fill a tall glass with ice and pour coconut lemonade mixture halfway up the glass. Next, pour the mango purée filling into the top portion of the glass, leaving about 1 inch space from the lip.

Finally, fill the remainder of the glass with coconut cream (this gives a beautiful presentation of the ingredients however when ready to drink give a good stir and enjoy!)
 About the Creator:
Jayde Rossi is a food stylist and foodie from Orange County, CA. Having a personal history of food sensitivities she embraces cooking with extra thought and creativity to keep the most nourishing part our days fun and enjoyable!