Creamy Golden Milk Smoothie
Posted on August 19, 2020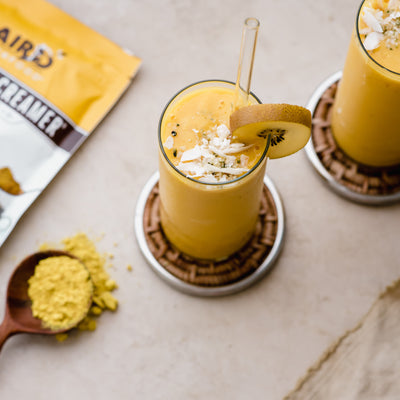 If you're a fan of golden milk lattes, this is the smoothie for you! It is chock full of epic ingredients like banana, mango, and ginger and has a superfood kick from our Turmeric Creamer! It's an easy and delicious way to make sure you're getting a daily dose of turmeric. 
Creamy Golden Milk Smoothie
Serves 2
Time to Make: 5 Minutes
Ingredients
1 banana

2 cups frozen mango chunks

2 tablespoons ginger (about a 2"x2" nob)

2 cups filtered water
Directions
1. Blend all ingredients together in a high-speed blender until smooth and consistent (adding more or less water for preferred consistency).
2. Enjoy!
About the Author
Monique Sourinho is a professional food stylist, photographer, and recipe developer based in beautiful Essex, Connecticut. Her passions for locally sourced food and community engagement are the driving forces behind Bee The Love, which is all about celebrating collaboration and its delicious end results.