Creamy Vegan Chia Seed Pudding Recipe
Posted on June 8, 2021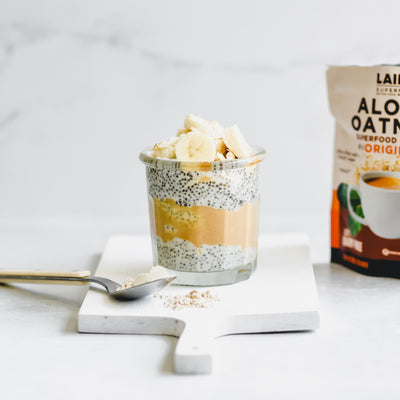 This is one of the most creamy and delicious chia seed pudding recipes ever!  It is a easy make-ahead breakfast or snack that is filling and nutritious. We added a superfood twist to ours with our Original Aloha OatMac Creamer.  
Original Aloha OatMac is wonderfully sweet and deliciously buttery. We've combined wholesome ingredients like macadamia nuts, nourishing oats, avocado oil, and aquamin to make this decadent and energizing blend. Rich and nutty macadamia make this blend perfectly flavorful and avocado oil gives a smooth and creamy finish.
Makes 1 Chia Pudding
Ingredients:
3 tablespoons organic chia seeds

1.5 Cups Water

(Optional) maple syrup or date syrup for extra sweetness

1/4 cup peanut butter or almond butter to layer

1/4 cup banana slices
Directions:
Stir chia seeds, water, and OatMac Creamer together and allow to rest for at least 3 hours or overnight in the fridge.

Give another stir and top with fruit and nut butter

Enjoy!
About the Author
Monique Sourinho is a professional food stylist, photographer, and recipe developer based in beautiful Essex, Connecticut. Her passions for locally sourced food and community engagement are the driving forces behind Bee The Love, which is all about celebrating collaboration and its delicious end results.