Curried Cauliflower and Butternut Squash Soup Recipe
Posted on October 28, 2021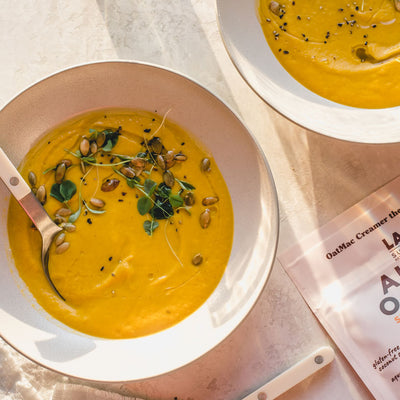 A delicious, savory, and perfectly fall-festive soup bursting with flavor and featuring our creamy and spicy Aloha OatMac Turmeric Superfood Creamer! This can be made in advance and reheated for a quick pot-luck or dinner party go-to, or enjoyed hot and fresh! Either way you choose to enjoy it, this soup will definitely be a favorite!
Serves: 8
Prep time: 15 minutes
Cook time: 30-40 minutes
Ingredients:
1 medium head of cauliflower
2 Butternut squash, large
3 TBSP avocado oil
1 sweet onion, large
2 celery stalks
3-4 large cloves garlic
1 TBSP fresh ginger
2 tsp sea salt
1 tsp cracked black pepper
1 tsp garam masala
2 TBSP curry powder
6+ cups vegetable stock

Directions:
Preheat the oven to 400°F and cut both squashes in half, lengthwise, and remove the seeds. (You can reserve the seeds, clean and toast later for a delicious snack!)
Next, roughly dice the cauliflower, squash, onion and celery into even chunks, then transfer to a baking tray. Afterwards, add the garlic cloves and ginger, then season with sea salt and pepper. Sprinkle the garam masala and curry powder then toss to evenly coat, and transfer the tray to the oven.
Bake for 30-40 minutes or until fork tender, then remove from the oven. Use a high speed blender or immersion blender to add the baked veggies, creamer and vegetable stock. Work in batches, or as needed, to process and purée the ingredients until silky smooth.
When ready, taste test and season to preference.
Finally, divide the soup into bowls or containers.
(Optional) garnish with roasted pumpkin seeds and micro greens, then enjoy!
About the Author
Monique Sourinho is a professional food stylist, photographer, and recipe developer based in beautiful Essex, Connecticut. Her passions for locally sourced food and community engagement are the driving forces behind Bee The Love, which is all about celebrating collaboration and its delicious end results.