Easy Oat Milk Blended Frappe Recipe with Aloha OatMac
Posted on June 8, 2021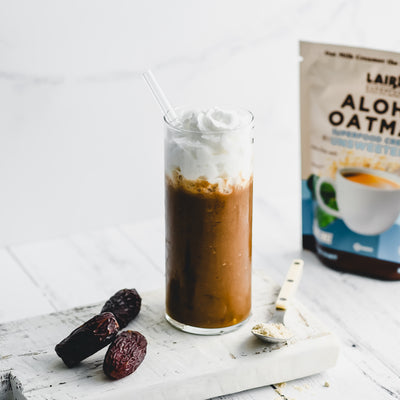 This plant-based iced coffee frappé is a delicous dairy-free and naturally-sweetened drink that's perfect for summer! With just three main ingredients, it takes only minutes to whip up. 
Created with our Unsweetened Aloha OatMac Superfood Creamer, it delivers all the kick and sweetness of a traditional blended coffee drink from the coffee shop, but leaves out any dairy or refined sugars. 
Unsweetened Aloha OatMac Creamer is wonderfully creamy and deliciously buttery. We've combined wholesome ingredients like macadamia nuts, nourishing oats, avocado oil, and aquamin to make this decadent and energizing (with no added sugar!). Rich and nutty macadamia make this creamer perfectly flavorful and avocado oil gives this blend a smooth and creamy finish. This is one of our best-tasting blends, no coconut flavor! 
Makes 1 Frappé 
Ingredients:
1 cup ice

1/2 cup cold brew coffee

3-4 Dates, pitted (depending on sweetness preference)

(Optional) Coconut whipped cream
Directions:
In a blender add all ingredients except for whipped cream and process until consistent.

Transfer into a glass and finish with the coconut whipped cream.

Enjoy! (Alternatively, you can mix 1 Tbs OatMac Creamer with 1 cup of water and freeze into cubes in place of regular ice cubes!)
About the Author
Monique Sourinho is a professional food stylist, photographer, and recipe developer based in beautiful Essex, Connecticut. Her passions for locally sourced food and community engagement are the driving forces behind Bee The Love, which is all about celebrating collaboration and its delicious end results.