Frosted Mocha Brownies with Focus Coffee Recipe
Posted on January 11, 2021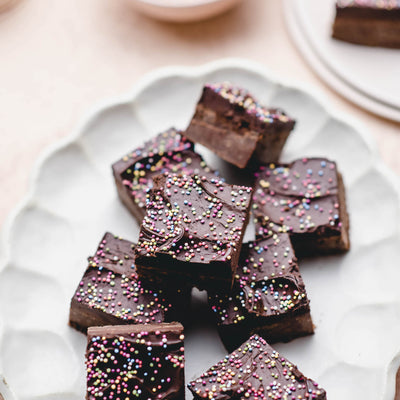 These Frosted Mocha Brownies with Sprinkles are make for a delicious nostalgic treat! Our Focus Coffee is the secret ingredient. Coffee has been a long-time favorite ingredient in brownie recipes, as it really brings out the rich chocolate flavor. Our coffee blend goes beyond just flavor, offering a real boost from botanicals and extracts from Lion's Mane Mushroom, Rhodiola, and Coffee Cherry!  They are also plant-based and gluten free!
Go ahead and whip these up for a bake sale, a birthday, or even a mid-week treat.
Makes 10-12 Brownies
Ingredients:
Brownies:
2/3 cup salted, vegan butter

1/2 cup vegan, semi-sweet chocolate chips

1 cup monk fruit sugar

3/4 cup brewed Laird FOCUS Coffee

1 tsp vanilla extract

3/4 cup all purpose flour

1/3 cup Laird Cacao Creamer

1 tsp Himalayan Salt
Frosting:
1.5 cups vegan, semi-sweet chocolate chips

1 cup coconut cream (chilled in the fridge to solidify)

1/2 tsp Himalayan Salt
Directions:
Make the frosting ahead of time by melting the chocolate chips over a double boiler.  Remove from heat and add the solid coconut cream and salt.  Stir until evenly incorporated.  Allow to chill for 4 hours or until settled in the fridge (This is the ganache and it will be whisked when the brownies are ready and cooled).

Preheat oven to 350°F.  In a large mixing bowl, melt the chocolate chips with the vegan butter over a double boiler until fully melted and smooth.  Next, add the sweetener, coffee and vanilla extract and whisk until consistent.

Afterwards, sift in the remaining brownie ingredients then fold and stir until just combined.  Transfer to a greased and lined 8"x8" baking pan then transfer to the oven to bake for 30-40 minutes or until settled.  Allow to cool before frosting.

Meanwhile, finish making the frosting by returning the bowl from the fridge.  Whisk until light and fluffy all around.

When brownies are cooled, use a spoon or spatula to spread the frosting on top.  (Optional: garnish with sprinkles).

Slice into and enjoy!
About the Author
Monique Sourinho is a professional food stylist, photographer, and recipe developer based in beautiful Essex, Connecticut. Her passions for locally sourced food and community engagement are the driving forces behind Bee The Love, which is all about celebrating collaboration and its delicious end results.