Mango Yogurt Medley Recipe
Posted on October 19, 2017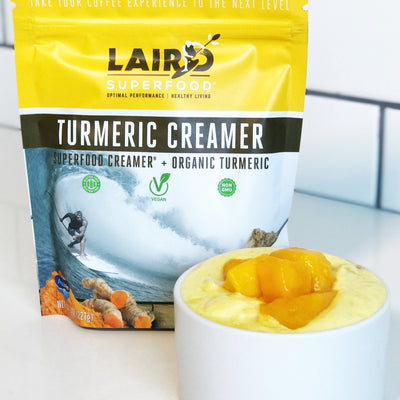 A mango turmeric mashup that adds protein and fiber to a staple creamy snack.
Servings: 2
Ingredients
Instructions
In a medium bowl, mix yogurt,

Laird Superfood Turmeric Creamer

and collagen or protein powder.

Fill two bowls with yogurt mixture and evenly distribute the mango on top.

Place in the fridge and allow at least 30 minutes for the mango to defrost before enjoying.
ABOUT THE AUTHOR
CATE RITTER
Cate Ritter is a Functional Diagnostic Nutrition® Practitioner and Contributing Editor to Laird Superfood. Cate works with individuals and corporations helping them to look, feel and perform their best. For more info visit https://www.cateritterwellness.com/
Disclaimer
Cate Ritter, FDN-P is a non-licensed alternative health care practitioner. She is not a medical doctor. She does not diagnose, cure, or treat any illness or disease. The information provided is for educational purposes only and is not a replacement for your primary care physician.
For more info visit https://www.cateritterwellness.com/