Mitts Off My Pumpkin Muffins Recipe
Posted on October 23, 2017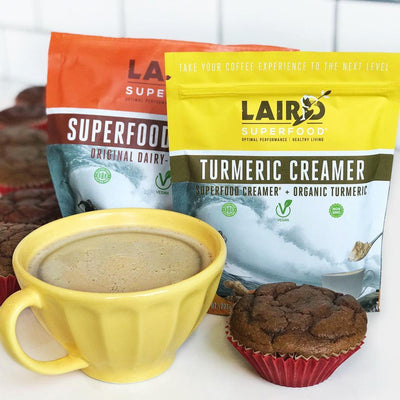 Easy,

 vegan, and highly-nutritious pumpkin muffins. Perfectly sweet with just a little spice.
Servings:  6 muffins  
Ingredients
½ cup cassava flour
½ cup Laird Superfood Original OR 

Turmeric Creamer

½ cup 

coconut sugar

½ cup pumpkin purée
1 teaspoon cinnamon
1 teaspoon vanilla extract
1 teaspoon apple cider vinegar
½ teaspoon baking soda
4 eggs, at room temperature
Directions
Preheat the oven to 350 degrees.

In a large bowl, add all of the ingredients except the eggs. Whisk until combined.

In a separate medium bowl, beat the eggs with an electronic whisk for 30 seconds or by hand for about 1 minute.

Add the eggs to the large bowl and whisk until smooth batter forms.

Line a muffin tray with 6 muffin liners for easy removal. Pour the muffin mixture evenly into the muffin liners.

Bake for about 25 minutes, until a toothpick inserted comes out clean.
Note: If you double this recipe, then increase the baking time to 30 minutes.
Recommended Ingredient: Otto's Cassava Flour
Cassava flour is made from peeled yuca, a starchy root vegetable. This flour is an excellent grain-free, gluten-free, nut-free baking powder that works well as a direct substitute for wheat flour in recipes. Unlike most gluten-free flours, cassava flour results in exceptional texture and mild taste.