No-Bake Pumpkin Spice Cookies Recipe (Vegan & Gluten-Free!)
Posted on October 19, 2021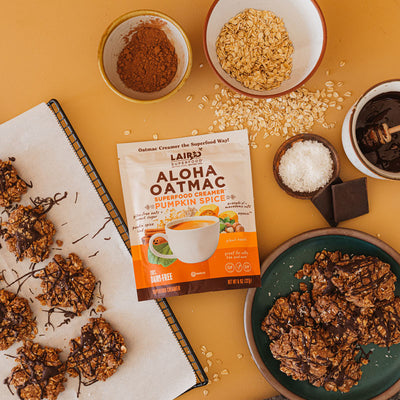 A delicious superfood cookie with zero baking required? That's exactly what this recipe brings to the table! Starring our Pumpkin Spice Aloha OatMac Superfood Creamer. You can even freeze them for a Pumpkin Spiced treat after the fall season.
Ingredients:
1/4 cup Maple syrup
1/4 cup Coconut oil
1/3 cup Peanut butter or almond butter
2 tbsp Cacao powder
1/2 tsp salt
1/2 tsp vanilla extract
1.5 cups of oats (add more if needed)
1/4 cup Coconut flakes
100% Cacao chocolate for drizzling
Directions:
In a bowl, combine all wet ingredients.
Combine all dry ingredients, and slowly add to wet ingredients
Mix well, and adjust as needed (add more oats if too wet, add more peanut butter if too dry)
Make small scoops with your hand and roll the dough into balls. Smash ball on parchment paper until flat like a cookie
Melt chocolate and drizzle on top.
Refrigerate for 30 minutes. Keep in the fridge for up to 5 days.