Backyard Peach, Tomato & Pili Nut Salad with Lemongrass Dressing Recipe
Posted on August 19, 2021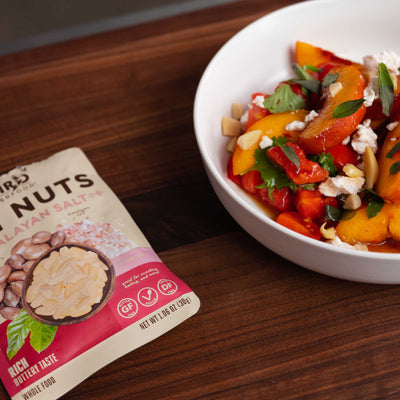 Never bring a boring salad to a summer potluck ever again!
Imagine this - fresh summer peaches bursting with flavor complemented by bold basil and cilantro, and crunchy Pili Nuts, all tossed in an Asian-inspired lemongrass dressing! Can you imagine how incredible that would taste? Well, you don't have to imagine anymore! This gorgeous salad is just as tempting to the eyes as it is to the taste buds and a beautiful way to include superfoods in your next unique summer salad!
Recipe makes 2 servings
Ingredients:
Lemongrass Ginger Dressing
⅓ cup fresh lime juice
3 Tablespoons coconut sugar
2 Tablespoons sesame oil
1 Tablespoon tamari
1 lemongrass stalk, chopped
1 Tablespoon fresh ginger, finely chopped
½ teaspoon chili flakes, optional
Peach, Tomato & Pili Nut Salad
2 ripe peaches
1 large tomato (beefsteak or heirloom preferred)
1 small handful of Asian herbs (Thai basil, mint, and cilantro are recommended)
3 Tablespoons of chopped Laird Superfood Himalayan Salt Pili Nuts
2 Tablespoons of nut-based vegan cheese of choice.
Optional: Use approx. 1 cup of halved cherry tomatoes in place of a large tomato.
Directions:
Prepare dressing by adding all ingredients to a small pot and bringing to a boil. Once boiling, immediately lower to a simmer for 10 minutes, or until the volume of the liquid has been reduced by about half. Remove from heat and cool in the fridge.
Gently slice half the peaches, remove the pits, and cut into wedges, and place into a mixing bowl.
Gentle half the tomato and cut into wedges. Add to the mixing bowl.
Finely slice your Asian herbs of choice, sprinkle over peach and tomato and gently mix with hands until evenly dispersed.
Transfer peach and tomato mixture to a plate. Top with chopped Pili Nuts, vegan cheese, and drizzle with your dressing until covered.
Enjoy immediately!
About the Creator:
Aaron Elliot
is a plant-based chef from Los Angeles. After training at
Noma
in Copenhagen and
D.O.M.
in San Paulo, he has cooked privately for various high profile clients and he caters events across the city.