Gluten-Free Plant-Based Pumpkin Pie Recipe
Posted on November 16, 2019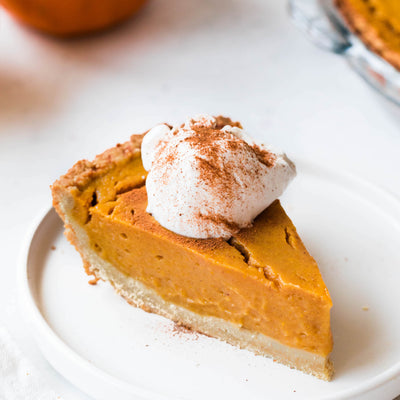 The holidays aren't complete without Pumpkin Pie. Whether you make this gluten free, plant-based Pumpkin Pie recipe for a Thanksgiving feast or a Tuesday night treat, it's sure to be a hit.
The fact that it's gluten-free AND plant-based gives you all the more reason to come back to this recipe again and again. 
This awesome recipe comes from Anett Velsberg. Our Laird Superfood Pumpkin Spice Creamer takes this pie to the next level.
Serves 6-8
Prep time: 15 minutes
Cook time: 60 minutes 
Ingredients:
For the crust:
1 1/2 cups gluten-free oat flour

1 1/2 cups almond flour 

1/2 tsp sea salt

1/4 cup solid coconut oil

3 tbsp maple syrup

2-3 tbsp water
For the filling:
To serve: 
1 cup vegan whipped cream
1-2 tsp ground cinnamon
Instructions:
Preheat the oven to 350F/180C. Grease a 9" pie dish and set aside.

Add the gluten-free oat flour, almond flour and sea salt to a food processor. Pulse for 30 seconds until evenly mixed. Add the coconut oil and pulse again until you have fine crumbs. 

With the motor running in the food processor, add the maple syrup followed by the water until the dough sticks together when pressed between fingers. 

Place the dough in the pie dish and press evenly to the bottom and up the sides. Refrigerate until needed. 

Add the pumpkin puree, creamer, corn flour, maple syrup, and cinnamon in a blender and blend until smooth. Pour into prepared crust and bake for 55-60 minutes, until the crust is golden and the filling is set. If the crust begins to brown quite quickly then cover the edges with tin foil or a pie crust protector. 

Remove pie from oven and cool at room temperature for at least 1 hour, then transfer to the fridge and cool for a further 4-6 hours or overnight. 

Slice and serve with whipped cream and a sprinkle of ground cinnamon.