Plant-Based Superfood Moon Milk
Posted on May 21, 2021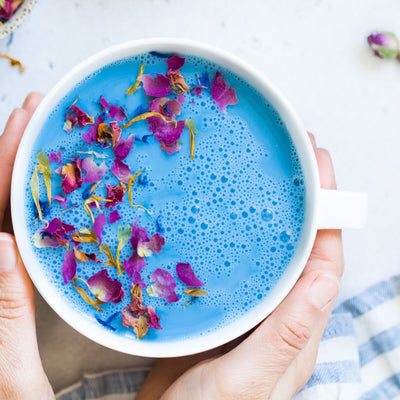 A warm mug of milky goodness with a touch of our Superfood Creamer along with delicious spices and ashwaganda, Moon Milk is a perfect beverage to sip on as you ease into a relaxing evening! Check out our recipe below, and feel free to follow your intuition and make any tweaks!
Serves 2
Time: 10 minutes
Ingredients:
2 cups plant milk, such as almond, oat or coconut

2 tbsp maple syrup

½ tsp butterfly pea powder or blue spirulina

½ tsp cardamom

½ tsp cinnamon

½ tsp ashwaganda or reishi powder (optional)

½ tsp vanilla extract

1 tsp dried flowers, such as rose or lavender
Directions:
1. In a small saucepan set over medium-low heat, whisk together plant milk with maple syrup, creamer, butterfly pea powder, spices and vanilla until powder is dissolved and milk is warm but not yet simmering.
2. Remove from heat and pour into cups. Top with dried flowers. Serve immediately.
About the Author
Anett Velsberg is an experienced food photographer, videographer, recipe creator and food stylist from Tallinn, Estonia. Her heart lies between travelling the world and creating healthy wholesome recipes for body and mind, that not only taste amazing but look delicious, too.