Plant-Based Pumpkin Spice Banana Bread Recipe
Posted on October 24, 2018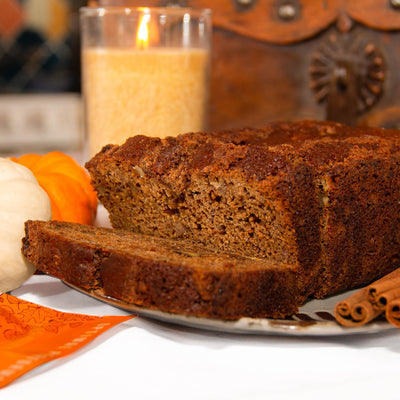 Quite possibly the best banana bread ever! Adding the Laird Superfood® Pumpkin Spice Creamer adds a whole new dimension and makes it the perfect treat for the season.
Ingredients
1 1/2 cups all purpose flour (or your favorite gluten-free all purpose baking mix)
1 cup + 2 tbsp Coconut Sugar
1 tsp 

b

aking soda
1/2 tsp

s

ea salt
3 medium

m

ashed ripe bananas
2 large

e

ggs
1/2 cup

 m

elted coconut oil
1/4 cup

 a

gave (or maple syrup)
1/4 cup

 w

ater
1/2 cup

 c

hopped walnuts (optional)
Crumb Topping Ingredients:
1 tbsp 

Coconut Sugar

2 tsp

c

old coconut oil (or butter)
Directions
1.) Preheat oven to 350
°F. Use coconut oil or butter to butter and flour a 9"x5"x3" baking bread pan.
2.) Mix all dry ingredients in a medium mixing bowl.
3.) Mix wet ingredients, except for mashed bananas, in a large mixing bowl and whisk until mixed well.
4.) Add dry ingredients—stir until blended. Fold in mashed ripe bananas and walnuts.
5.) Transfer batter to the prepared baking pan. Mix Crumb Topping ingredients in a bowl with fork—mix until crumbly. Sprinkle over batter.
6.) Bake bread for approximately 50 minutes, or until knife inserted into center comes out clean.
7.) Let bread cool on baking rack for approximately 10-15 minutes, turn pan on it's side and slide bread out onto the cooling rack. Turn bread right side up and let cool completely. Slice and enjoy!
About the Author
Sandy Egge
Sandy is a Naturopathic Clinical Nutritionist, who now spends her working career as Senior Director of Research and Development for Laird Superfood.  She passionately believes in food as medicine, and in whole food as the foundation for good health.  Sandy's previous experience has led her to advocate for, and design, individualized Nutritional Protocols to be integrated with Functional Medicine treatment plans and she's written numerous articles for medical advocacy groups introducing "food as medicine."  When she's not at Laird Superfood developing new whole food products, you'll find her cooking up delicious food to share with family and friends or enjoying the beautiful outdoors of Central Oregon!