Pumpkin Spice Curry Soup Recipe
Posted on October 30, 2018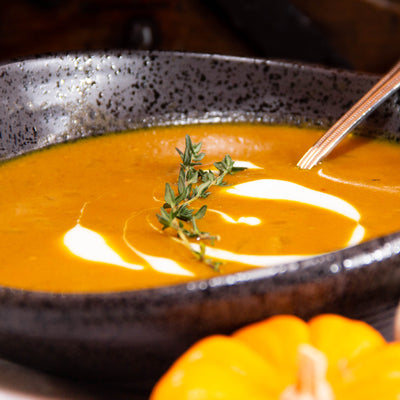 Cozy up with a warm bowl of aromatic Pumpkin Spice Curry Soup. Full of festive spices, this soup uses our Pumpkin Spice Superfood Creamer® & Unsweetened Superfood Creamer® to make it creamy without having to use dairy.
Ingredients

1/4 cup

v

irgin olive oil (coconut oil may be substituted for olive oil)
1 small

o

nion, finely chopped
1 large

 c

love garlic, minced
3 cups

v

egetable broth (or chicken broth)
1 tbsp

c

urry powder
2 tsp

g

inger root, grated
1 tsp

s

ea salt
1/2 tsp

c

oriander, ground
1/2 tsp

r

ed pepper flakes, crushed
1 can

p

umpkin puree (15 ounces)
1 cup

w

arm water
3 tbsp

Laird Superfood Unsweetened Superfood Creamer

 (heaping tablespoons)
1 tbsp 

a

gave or maple syrup stirred in at the very end
Topping:
Toasted pumpkin seeds, fresh chopped thyme and a dollop of plain unsweetened coconut yogurt.
Instructions
In medium sauce pan over medium/low heat, warm olive oil and add onions.  Stir and cook until onions are translucent (about 5 minutes).
Add minced garlic and stir for about 1 minute (don't let garlic over-cook or it will become bitter).
Mix in the vegetable broth, all spices and Laird Superfood Pumpkin Spice Creamer. Stir well, turn heat to medium and let mixture come to a gentle boil.
Turn heat to medium/low and let simmer for 15 minutes, then add pumpkin puree and mix well.  
In a bowl mix warm water and Laird Superfood Unsweetened Creamer together and blend till smooth. Add to soup base.
Cover soup and let soup simmer for about 5-10 more minutes, stirring occasionally.  Remove from heat and let sit for 5 minutes, stir in agave or maple syrup, salt and pepper to taste.
Ladle soup into soup bowls. Top with a dollop of plain unsweetened coconut yogurt, toasted pumpkin seeds and a sprinkle of fresh thyme.


About the Author
Sandy Egge
Sandy is a Naturopathic Clinical Nutritionist, who now spends her working career as Director of Research and Development for Laird Superfood.  She passionately believes in food as medicine, and in whole food as the foundation for good health.  Sandy's previous experience has led her to advocate for, and design, individualized Nutritional Protocols to be integrated with Functional Medicine treatment plans and she's written numerous articles for medical advocacy groups introducing "food as medicine."  When she's not at Laird Superfood developing new whole food products, you'll find her cooking up delicious food to share with family and friends or enjoying the beautiful outdoors of Central Oregon!