Pumpkin Spice Snickerdoodle Cookie Recipe
Posted on August 5, 2021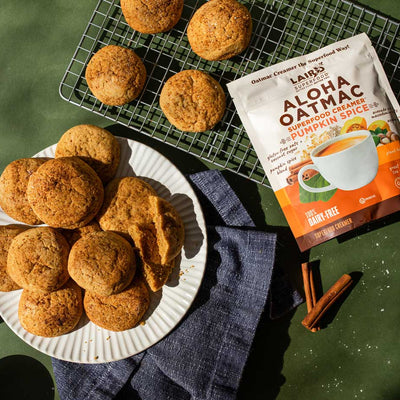 These cookies are a perfect way to level-up your classic snickerdoodle with a pumpkin spice twist! Perfectly crunchy and delicious - they are the perfect cookie for fall and the addition of our Pumpkin Spice OatMac Superfood Creamer makes them extra rich in your favorite fall flavors!
Makes about 1 dozen cookies
Ingredients:
3 cups almond flour
3 tablespoons Unsweetened Aloha OatMac Plant-Milk
1 teaspoon baking powder
1/2 teaspoon sea salt
½ cup melted vegan butter at room temperature
1/2 cup coconut sugar
¼ cup filtered water
1 teaspoon vanilla extract
1/2 tsp cinnamon
Directions:
Mix all together in a large mixing bowl then use a small cookie scoop to portion onto a baking tray and gently press to flatten, leaving a couple inches in between the scoops to allow for the dough to expand.
Bake at 350 degrees for 10-15 minutes. Allow to rest for 10 minutes.
Sprinkle with additional cinnamon and enjoy!