Pumpkin Spice & Sweet Potato Vegan Gazpacho Recipe
Posted on August 5, 2021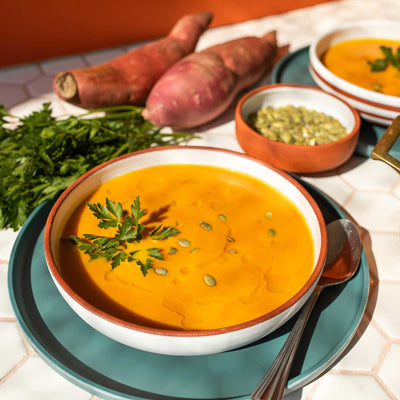 This nourishing soup is a delicious and versatile way to enjoy the creamy and rich flavors of fall. This gluten-free, dairy-free and vegan recipe is the ideal way to make the most of fall's bounty. Enjoy chilled or keep in an air-tight container in the freezer for up to two months.
Makes 2-4 servings
Ingredients:
2 yellow onions
Ground cumin
Ground cinnamon
2.5 cups sweet potato, chopped
2.5 cups pumpkin, chopped
4 cups vegetable stock
1 Tablespoon olive oil
2 Tablespoon Laird Pumpkin Spice Superfood Creamer
1 teaspoon ground cumin
1 teaspoon ground cinnamon
Salt and pepper to taste
Optional garnish: coconut cream, fresh herbs
Directions:
Peel and finely slice onions.
Peel and cut pumpkin and sweet potato into 1" cubes.
In a large saucepan over medium heat, cook onions in the oil for a couple of minutes.
Add the sweet potato, pumpkin and spices to pan, stir until well coated. Cook for 1 minute.
Add vegetable stock and simmer for 20-25 minutes or until veggies are tender.
Use an immersion blender, food processor or blender; blend the soup until smooth. Add Pumpkin Spice Superfood Creamer and blend for 15 additional seconds.
Serve and enjoy!