Superfood Vegan "Eggnog" Recipe
Posted on November 10, 2020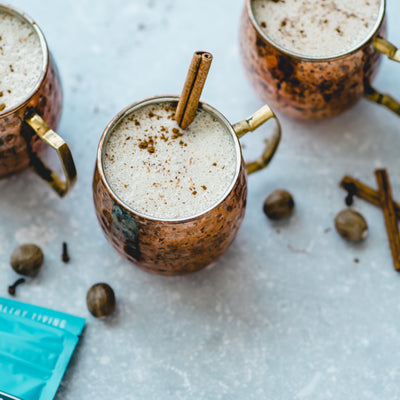 The holidays are upon us, and we couldn't think of a better way to celebrate than with some rich & comforting eggnog. We created this vegan option that lets you lean into the season without the dairy or processed sugars. Our Laird Superfood Unsweetened Creamer adds the perfect level of creaminess without the dairy! We think you'll love it!
Let us show you how easy it is to make this naturally sweetened vegan eggnog, perfect for the holidays and beyond!
Vegan Eggnog
Serves: 4-6
Ingredients:
5 dates, pitted
1 c. Cashews 
2.5 c. hot water
2 tsp. vanilla bean paste
1/2 tsp. freshly ground nutmeg
1 tsp. ground cinnamon
1 tsp. maple syrup
Pinch sea salt
1/4 tsp. ground allspice
2 c. filtered water
Directions:
Soak cashews with dates and hot water.  Allow to rest for at least 30 minutes.
When ready, transfer to a blender and add remaining ingredients.
Blend until smooth and consistent, transfer to a pitcher and chill for one hour. (It will thicken as it cools.)
When ready, shake or stir and enjoy! :)
About the Author
Monique Sourinho is a professional food stylist, photographer, and recipe developer based in beautiful Essex, Connecticut. Her passions for locally sourced food and community engagement are the driving forces behind Bee The Love, which is all about celebrating collaboration and its delicious end results.