Superfood Whipped Coffee Recipe
Posted on April 9, 2020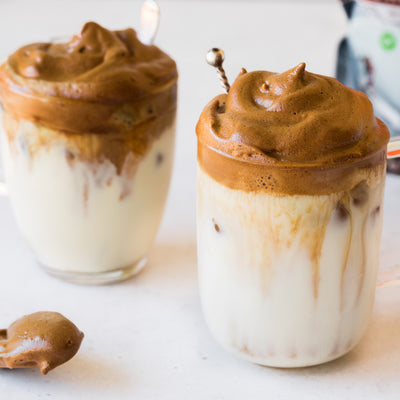 Whipped Coffee has taken the world by storm, and we are here for it! We HAD to surf the whipped coffee wave... we just made ours the Superfood way!
We opted for coconut sugar, plant-based milk, and added a boost from our Superfood Original Creamer.  Have you tried this yet?! If not, you need to run to your kitchen and get whipping! The hype is real.
Check out the video to see how to make it, and find the full recipe below!
Serves 2
Ingredients:
1/4 cup Organic Coconut Sugar

1/4 cup instant coffee

1/4 cup hot water

2 cups lukewarm unsweetened plant milk

1/2 cup ice
Directions:
1. Add the coconut sugar, instant coffee and hot water to a mixing bowl. Use an electric beater or standing mixed to whip to stiff peaks. Set aside.
2. Add 1 tbsp creamer to a cup and top with milk. Whisk until lump-free.
3. Add 1/4 ice to each glass and top with 2-3 tbsp of whipped coffee.
4. Stir whipped coffee into milk before serving. Enjoy!