Seasonal Baked Cauliflower Recipe
Posted on December 7, 2020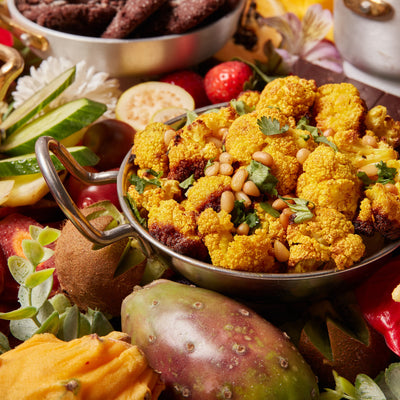 Add a spin to cauliflower with the baked turmeric cauliflower recipe! We are obsessed with turmeric, and love to find ways to sneak it into our diet, everyday. This recipe is packed with wholesome ingredients you'll feel good about! It's a perfect dish to balance out all the rich recipes you may be eating during the holiday season.
Ingredients:
1

 

cup

 safflower or sunflower oil

2

 tsp crushed red pepper

2 tsp sea salt
4 heads of cauliflower, cored and cut into 1 inch florets

1/3 cup pine nuts

3 Tbs chopped cilantro

1 Tbs chopped mint
Directions:
Preheat the oven to 425°. In a small bowl, combine the oil, cumin, Laird Superfood Turmeric Creamer, crushed red pepper and 1/2 teaspoon of salt.
On two large baking sheets, drizzle the cauliflower with the spiced oil and toss well to coat; season with salt. Spread the cauliflower in an even layer and bake for about 1 hour, until browned and tender. 
Meanwhile, bake the pine nuts in a pie pan for about 1 minute until toasted.

Transfer the cauliflower to a serving bowl and sprinkle with the pine nuts, cilantro, and mint to serve.