Vegan Fruit and Yogurt Bowls Recipe
Posted on January 8, 2021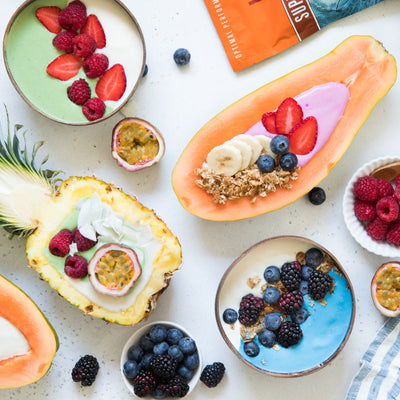 If you're looking for a fun way to elevate your morning breakfast, look no further! These fruit and yogurt bowls look impression, but they're actually very easy to make and they have a delicious boost from our Superfood Creamer.  Check out the recipe below, and make it your own by picking your favorite fruit and toppings to use!
Ingredients:
1-2 tbsp maple syrup (optional)
1 tsp vanilla extract, blue spirulina, matcha or pitaya powder
1/2 pineapple, hollowed out
1/3 cup fresh berries, such as strawberries, raspberries, blueberries or blackberries
Directions:
1. In a small bowl, combine the yogurt, creamer, maple syrup (if using) and any of the flavor variations you choose. Whisk until uniform.
2. Spoon yogurt into a deseeded papaya, hollowed-out pineapple or bowl. Top with granola, fruits and berries to your liking.
3. Serve immediately. Enjoy!
About the Author
Anett Velsberg is an experienced food photographer, videographer, recipe creator and food stylist from Tallinn, Estonia. Her heart lies between travelling the world and creating healthy wholesome recipes for body and mind, that not only taste amazing but look delicious, too.