Funfetti Cookie Sandwiches Recipe
Posted on June 2, 2021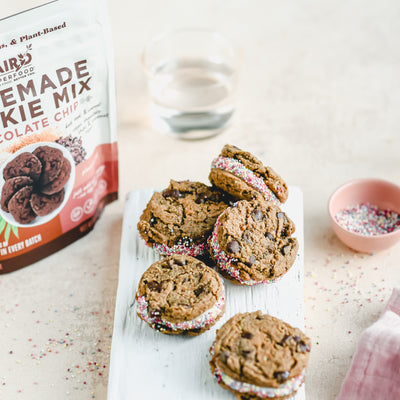 These Vegan
 

Funfetti Cookie Sandwiches

 

are as gorgeous as they are delicious. Our Chocolate Chip Cookies pair perfectly with a velvety vegan frosting and of course lots of sprinkles! They are east to make, they're perfect for parties, birthdays or any time. The whole family will go crazy for them!
You would never know it, but we've included 42 kale leaves, ⅓ of a beet, and 1 and ¼ carrot in each delectable batch of delicious chocolate chip cookie mix. You'll love the sweet taste of chocolate with all the benefits of 2.5 servings of vegetables per batch. This mix is easy to make and truly vegan, meaning there's no egg or egg substitute required. Just add oil and water, bake, and enjoy!
Vegan Funfetti Cookie Sandwiches
Makes 5 Cookie Sandwiches
Vegan White Chocolate Frosting:
Ingredients:
8 oz. vegan cream cheese
8oz Vegan Butter
2 c. Powdered Sugar
1 tsp. Vanilla Extract
Pinch Fine Sea Salt
Directions:
Cream butter and cream cheese until light and fluffy

Add sugar, slowly, until combined.

Add vanilla and sea salt and w

hisk until smooth, fluffy & consistent.

Set in fridge until cookies are ready to be frosted (but be sure to take out of fridge about 30 min before frosting cookies to allow frosting to get to room temperature)
Cookie Sandwiches:
Ingredients:
1 package Laird Superfood Homemade Cookie Mix
1/4 cup olive oil
2 tablespoons of water
11/4 cups Vegan White Chocolate frosting (recipe below)
1/4 cup of vegan sprinkles (or enough to coat)
Directions:
Prepare the frosting ahead of time or scoop your favorite vegan frosting.
Preheat oven to 350°F. Mix the cookie mixtures with the olive oil and water until just combined, then portion into 10 cookie balls and flatten gently onto a lined baking tray.
Transfer to the oven and bake for 8-10 minutes.
Allow to cool completely before adding 2 Tbs of frosting per sandwich cookie.
Afterwards, transfer the sprinkles to a small bowl and roll the sides of the cookie to coat the frosting.
Finally, enjoy!
About the Author
Monique Sourinho is a professional food stylist, photographer, and recipe developer based in beautiful Essex, Connecticut. Her passions for locally sourced food and community engagement are the driving forces behind Bee The Love, which is all about celebrating collaboration and its delicious end results.