Vegan Guava Jell-O Recipe
Posted on January 15, 2021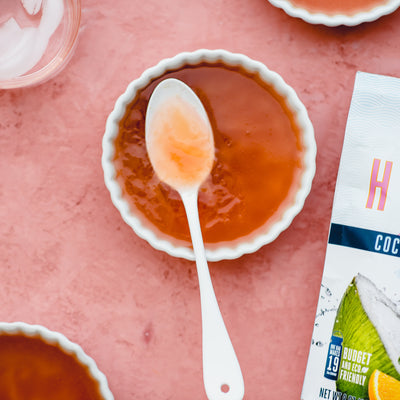 Say hello to your new favorite jell-o. See what we did there?
But seriously, this Orange Guava Jell-O is amazing because it's plant-based and has a boost from our Orange Guava Hydrate! Orange Guava Hydrate is hydration the whole family will love. This blend has all of the deliciously refreshing tropical flavors of guava and orange with the nutritional benefits of coconut water and Aquamin.
This Jell-O recipe blends together delicious flavors like strawberry, pineapple, orange, and guava! It comes together in minutes, and it's pink color will delight the whole family. It's a perfect plant-based treat, and just happens to also be gluten and dairy free!
Ingredients:
½ c. Strawberry puree
1 c. Pineapple juice
2 tsp Agar agar powder
2 c. Water
1/4 c. Powdered sugar
1 tsp Lemon Juice
Directions: 
Add all to pot & bring to a boil
Continuously stir for 2 min.
Divide into 4 small ramekins then transfer to the fridge to set.
When firm to the touch, share and enjoy!
About the Author
Monique Sourinho is a professional food stylist, photographer, and recipe developer based in beautiful Essex, Connecticut. Her passions for locally sourced food and community engagement are the driving forces behind Bee The Love, which is all about celebrating collaboration and its delicious end results.