Raw White Chocolate Matcha "Cheesecake" Bars Recipe
Posted on February 10, 2021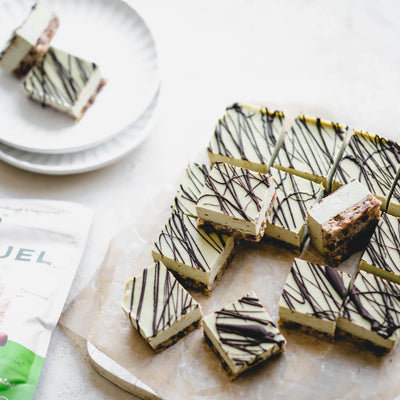 Calling all green tea lovers! This raw and vegan dessert is the perfect treat to whip up when you want to enjoy a sweet dessert made with ingredients you can feel good about. You'll love the delicious flavors of coconut and light sweetness and the earthy sweetness of Matcha! The crust is made with walnuts and dates, which add natural sweetness.
Aside from being perfect in baking, Our Matcha Instafuel makes a delicious Matcha Latte at home, on the go, or on the road - in an instant. This delicious product is a good source of calcium, iron, and vitamin C.
Matcha harnesses the full potential of green tea by incorporating the whole shade-grown tea leaf. This superfood has one of the highest antioxidant analysis ratings in its category.
Raw Matcha "Cheesecake" Bars
Serves: 4-6
Ingredients:
Crust:
12 Dates, pitted
1.5 cups walnuts
1 tsp Himalayan Salt
1 tsp vanilla extract
1 tsp ground cinnamon
Filling:
1.5 cups raw cashews, soaked overnight
6 dates, pitted
1 tbs monk fruit sugar
5.4 oz. coconut cream
1 lemon
1 tsp vanilla extract
1/4 cup coconut butter
1/4 cup Laird Superfood Matcha Instafuel
Directions:
Soak dates and cashews overnight in enough water to cover by 1 inch.
In the meantime create the crust by adding all crust ingredients to a food processor and blending until just combined.
Transfer contents to a lined 8"x8" baking dish and press down to solidify the layer. Set aside for when the filling is finished.
For the filling, drain the cashews and dates then combine all filling ingredients into a high speed blender and process until smooth and consistent.
Pour the filling into the baking dish and smooth out.
Afterwards, transfer to the freezer to set for at least 3 hours.
When ready, slice into 2"x2" squares and enjoy!
About the Author
Monique Sourinho is a professional food stylist, photographer, and recipe developer based in beautiful Essex, Connecticut. Her passions for locally sourced food and community engagement are the driving forces behind Bee The Love, which is all about celebrating collaboration and its delicious end results.