Vegan Peanut Butter Cookie Skillet Recipe
Posted on June 2, 2021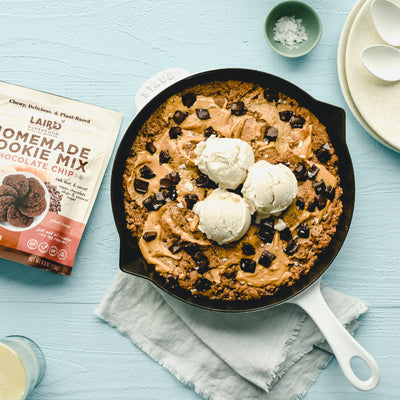 What could be better than a warm fresh-out-of-the-oven cookie? A cookie skillet. Ours is done the superfood way with our Homemade Cookie Mix that sneaks veggies into the blend and deliicou additions of peanut butter and vegan ice cream. It's the perfect dish to whip after dinner to delight your guests (or to spruce up an average Tuesday night)! When you see how easy it is to make and how deeply satisfying this dish is, you'll be hooked!
You would never know it, but we've included 42 kale leaves, ⅓ of a beet, and 1 and ¼ carrot in each delectable batch of our chocolate chip cookie mix. You'll love the sweet taste of chocolate with all the benefits of 2.5 servings of vegetables per batch. This mix is easy to make and truly vegan, meaning there's no egg or egg substitute required. Just add oil and water, bake, and enjoy!
Vegan Peanut Butter Cookie Skillet
Serves 6-8 people
2 packages Laird Superfood Homemade Cookie Mix
1/2 cup neutral olive oil or avocado oil
1/4 cup water
1/4 cup creamy peanut butter
1/2 cup vegan chocolate chips (optional for extra chocolate pools)
Vegan ice cream (optional, but recommended!)
Sea salt (optional)
Directions:

Preheat oven to 350°F. Mix the cookie mixtures with the olive oil and water until just combined, then transfer to a 9" skillet.

Dollop spoonfuls of the peanut butter on top then gently swirl with the backside of a spoon.

Sprinkle the chocolate chips on top then transfer to the oven and bake for 15-18 minutes.

When ready, enjoy as is or top with vegan ice cream and flaky salt (optional).

Enjoy!
About the Author
Monique Sourinho is a professional food stylist, photographer, and recipe developer based in beautiful Essex, Connecticut. Her passions for locally sourced food and community engagement are the driving forces behind Bee The Love, which is all about celebrating collaboration and its delicious end results.