Vegan Sweet Potato Casserole Recipe
Posted on November 3, 2020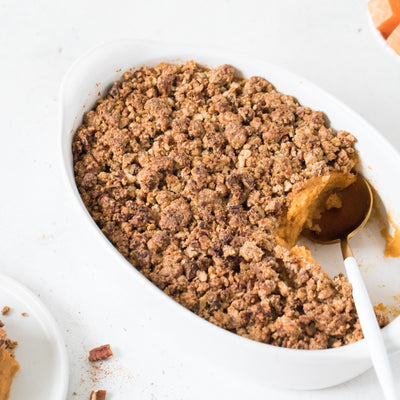 This crowd-pleaser of a dish is made with whole food ingredients you can feel good about! Our Superfood Creamer and Organic Coconut Sugar add the perfect boost of creamy coconut and subtle sweetness. You just might return to this classic again and again!
Sweet Potato Casserole
Serves 4-6
Ingredients
Sweet Potato Mash:
6 cups peeled and diced sweet potatoes (about 3 large potatoes)

1/2 cup unsweetened plant milk

1/3 cup Laird Superfood Original Creamer

1 tsp cinnamon

1/4 tsp nutmeg

1 tsp vanilla extract

1/2 tsp salt
Pecan Topping:
3/4 cup pecans, finely chopped

1/4 cup coconut sugar

1/2 cup oat flour, gluten-free if needed

1/2 tsp cinnamon

2 tbsp melted refined coconut oil or vegan butter
Directions

Preheat oven to 350F/180C.

Steam or boil the diced sweet potato until tender when pierced with a fork. Remove and cool for 10 minutes.

Place the cooled sweet potato in a large mixing bowl and add the plant milk, creamer, cinnamon, nutmeg, vanilla and sea salt. Mash until very smooth. Transfer to a 2-quart casserole dish and set aside.

In another bowl, combine the chopped pecans, coconut sugar, oat flour, cinnamon and coconut oil. Stir until you get a crumble. 

Sprinkle the pecan topping evenly on top of the sweet potato mash and bake for 18-22 minutes, until browned. Remove from heat and cool for 10 minutes before serving. 
About the Author
 Anett Velsberg is an experienced food photographer, videographer, recipe creator and food stylist from Tallinn, Estonia. Her heart lies between travelling the world and creating healthy wholesome recipes for body and mind, that not only taste amazing but look delicious, too.