Boost Coffee Protein Shake Recipe
Posted on December 28, 2020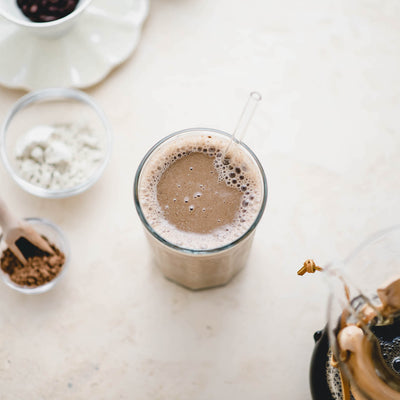 Our Boost Coffee Protein Shake is a delicious beverage to have when you need a pick-me-up. Not only does this have a boost from our Renew Protein Powder, but it offers 15% of your daily Vitamin D needs from boost coffee (when brewed according to directions). It's perfect to enjoy after a work-out, before a busy day, or for a mid-afternoon kickstart!
Boost Coffee was crafted to naturally support you. We start this blend with our Medium Roast coffee beans, then add functional mushroom extracts from Red Reishi and Maitake, along with Olive Leaf extract, and Agaricus mushroom powder. 
Makes 1 Boost Coffee Protein Shake
Ingredients:
Directions:
Add all ingredients to a high speed blender.

Blend, pour into cup(s) and enjoy!
About the Author
Monique Sourinho is a professional food stylist, photographer, and recipe developer based in beautiful Essex, Connecticut. Her passions for locally sourced food and community engagement are the driving forces behind Bee The Love, which is all about celebrating collaboration and its delicious end results.
*see bag directions.