Daily Ritual Partner Spotlight: Monique Sourinho
Posted on September 29, 2021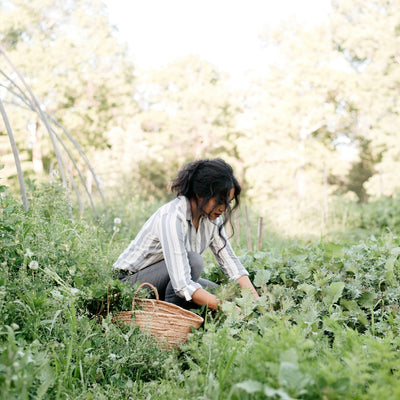 This week's Daily Ritual Partner spotlight is Monique Sourinho, Connecticut-based artist, food stylist, and photographer. We sat down with Monique to learn more about her approach to recipe creation, and how she uses her favorite Laird Superfood products in her own Daily Ritual.
Q&A with Monqiue
Could you start by telling us a little bit about yourself, where you live, and what you do?
Sourinho: "Long story short: I am an artist. Furthermore, I am a food stylist, photographer and recipe developer. I live in Connecticut (where the season of Fall is vibrantly tremendous) and I simply love to create and connect!"
What excites you about recipe development and food styling?
Sourinho: "What gets me going is researching, taste testing and experimenting! It is such a hands on process that involves all the senses! Through the food process into the styling it becomes another challenge of translating that excitement visually! There's so much more to communication than speaking! All in all, every aspect of recipe development and food styling keeps me on my toes!"
What advice would you give to someone first starting out in the world of food photography?
Sourinho: "My advice would be to keep on learning! Practice makes PROGRESS! There's always going to be someone better, but the greatest thing to focus on is your own advancements!"

Why are you excited to partner with Laird Superfood?
Sourinho: "There are a handful of reasons actually! Aside from enhancing my daily routines with Laird Superfood, the whole experience of partnering feels serendipitous because of how much I already vouch for the products AND I have mutual friends who personally met Laird. All of a sudden, the world feels like a small place!"
What is your favorite Laird Superfood product and why?
Sourinho: "Oof! That's a tough one honestly! I love the Unsweetened Coconut Creamer and pair it with the Performance Mushrooms and Ground Mushroom Coffee. If not coffee, then I switch to the Matcha seamlessly. That said, I can't choose a favorite! (Don't even get me started on the Pili Nuts!)"

Do you have a favorite recipe and why?
Sourinho: "Is it bad to say I don't have a favorite? That's because I fall in love with the process of creating new things to share! The more I create, the more I learn, and to me, I don't think there's a cap on that! It continues to expand within itself!"
Who first taught you how to cook?
Sourinho: "Looking back on things I'm actually not sure! It was either my Mom or my Aunt, but I also grew up watching cooking shows! I was determined to learn and the Internet definitely helped!"

Any exciting upcoming goals or projects, work-related or otherwise?
Sourinho: "I'm pretty excited about my new website launch! It will be ready in November and it's basically my heart and soul on my sleeves! It feels like a gallery of moments, experiences and individuals I'm inspired by and much more!"

Where are the best places for our community to follow you and your work?
Sourinho: "As of right now, my Instagram @bee.the.love is the best place, but come November, www.beethelove.net is where to find more!"
Here's a few of our favorite recipes Monique has created using Laird Superfood products!
This is the perfect recipe to make to stay cozy and warm throughout the winter! The cashews in this recipe add a delectable creaminess and the tomatoes and red peppers give this soup a vibrant hue to bring some brightness to your evening.
Our Laird Superfood Unsweetened Creamer adds a boost from organic coconut oil and our Activate Daily Jumpstart adds a subtle spark of citrus to the soup. There is also a touch of sweetness from our Harvest Dates!
Let us introduce you to our new favorite springtime treat: Watermelon Pizza.
It's a perfectly sweet surprise to serve family and friends. We sliced up a beautiful watermelon and topped it with a delicious superfood frosting (elevated with our Original Creamer!), and topped it all off with fresh berries, coconut shavings, and mint!
Feel free to customize it with your favorite fruit or even a chocolate drizzle. There is no wrong way to do it.

Meet your new favorite refreshing beverage. This delicious drink comes together with tropical flavors flavors like pineapple, guava, and passion fruit. The addition of coconut milk makes it perfectly creamy in addition to being ultra hydrating.
The addition of our Orange Guava Hydrate adds the deliciously refreshing tropical flavors of guava and orange with the nutritional benefits of coconut water and Aquamin.
This Spiced Maple Latte is exactly what your morning needs! It's the perfect recipe to switch up your morning routine - your taste buds will thank you!
The flavors of ground cinnamon and nutmeg blend perfectly with the sweetness of maple syrup, and our Original Superfood Creamer adds a rich and luxurious creaminess to the mix.
Check out Monique's custom Daily Ritual Bundle, as well as a few of her favorite products below!