Easy Protein Overnight Oats Recipe
Posted on October 21, 2020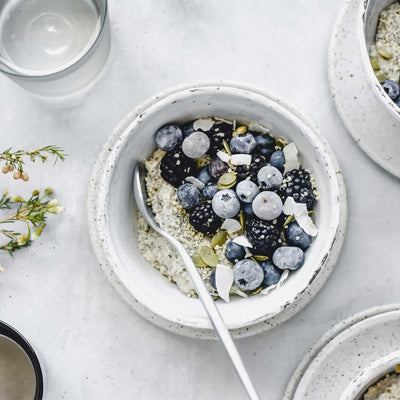 Protein Overnight Oats
This breakfast is perfect because it's incredibly convenient to make (you do it the night before so it's good to go in the am!) and it's packed with nourishing ingredients to get keep you fueled from sunrise to sunset! Our Renew Protein Powder takes this to a whole new level, offering epic plant-based power!
Serves 2
Ingredients
2 cups rolled oats
2 tablespoons chia seeds
2 cups coconut milk
2 tablespoons maple syrup
1 teaspoon vanilla extract
Fruit, nuts and seeds to garnish
Directions
1. In a medium bowl mix together protein, rolled oats, chia seeds, coconut milk, maple syrup and vanilla extract.
2. Stir until well combined then cover and chill in the fridge for 2-3 hours or overnight.
3. When ready, distribute and garnish. Enjoy!


About the Author
Monique Sourinho is a professional food stylist, photographer, and recipe developer based in beautiful Essex, Connecticut.Her passions for locally sourced food and community engagement are the driving forces behind Bee The Love, which is all about celebrating collaboration and its delicious end results.