Supercharge Your Day with Laird Superfood® Turmeric Protein Shake
Posted on August 22, 2017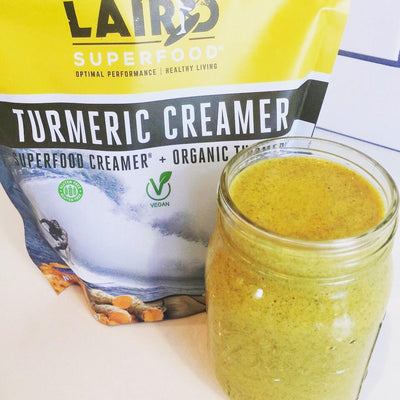 Cate Ritter is a Functional Diagnostic Nutrition® Practitioner and Contributing Editor to Laird Superfood. Cate works with individuals and corporations helping them to look, feel and perform their best. For more info visit catesnutrition.com 
 
This Laird Superfood® Turmeric Protein Shake contains nutrients, and antioxidants, and is delicious for breakfast, a quick snack or after a tough workout.
Servings: 1 serving
Ingredients
2 cups water
2 tablespoons Laird Superfood Turmeric Creamer
1 tablespoon chia seeds
1 frozen ripe banana
1 serving vanilla plant-based protein powder
1/2 teaspoon cinnamon
pinch of black pepper (to increase turmeric absorption)
Directions
Add ingredients to a high-speed blender and blend until smooth and creamy.
Why add black pepper?
This shake includes a pinch of black pepper to increase the absorption of turmeric by up to 2,000 percent! The natural oils in the Laird Superfood Turmeric Creamer may also increase the body's ability to absorb turmeric. 
Health Benefits of Turmeric
Turmeric is a superfood you want to include, and Laird Superfood has made it easier than ever to get this spice into your daily diet with the Laird Superfood Turmeric Creamer. 
Try Laird Superfood Turmeric Creamer today!
Disclaimer: Cate Ritter, FDN-P is a non-licensed alternative health care practitioner. She is not a medical doctor. She does not diagnose, cure, or treat any illness or disease. The information provided is for educational purposes only and is not a replacement for your primary care physician.